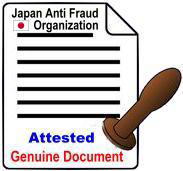 Verification the authenticity of document/certificate
To verify if any document(s) issued in Japan are legal/original and not altered/counterfeit, Japan Anti Fraud Organization (JAFO) carry attestation at Tokyo Head quarters. Attestation of documents by Japan Anti Fraud Organization is the method of checking the authenticity of any document(s) issued in Japan. This Organization attest document(s) by stamping the official seal and Authorized signature by an officer.
The document will be attested after verification from issuing authority. Original document(s) will be sent back to applicant's designated address after the attestation, while the copy will be keep by Japan Anti Fraud Organization (JAFO) for it's record.
Which document is eligible for attestation:
Any kind of document issued from a company, Organization, Government Agencies & Diplomatic Missions in Japan are eligible to apply for attestation. However, document issuing authority must have official presence (physical address) in Japan. This Organization cannot attest document issued in overseas countries, except Japanese Embassy or Diplomatic mission.
Attestation time duration:
Normally documents are dispatched (returned) after 3 days of receiving date. However, may take more time if confirmation from issuing authority is not received soon.
Attestation fee:
Japanese Yen 3,300 per document (per page) excluding delivery/shipping charges.
How to pay fee:
Attestation fee is accepted by credit card only.
How to apply:
From within Japan, send original document(s) with one photocopy for each page by Sagawa Kyubin, Yamato Takkyubin, Postal Service or any other courier service. While from overseas countries, send document(s) by Fedex to this Organization's designated address. In order to send back document(s) after attestation, send self addressed envelope with document(s).
Coming to the Head quarter of this Organization for attestation is not permitted.
The only accepted method is sending document by Courier service or postal service.